OUR VIRTUAL TOUR MARKETING
Interactive virtual reality (VR) tours are quickly becoming the ultimate marketing tool for the yachting industry. Relevance Yacht's luxury yacht marketing specialists use superior technology to create compelling virtual reality tours to complement the marketing campaigns of the world's most prestigious yachting brands. Our dynamic virtual tour yacht marketing services are carefully designed to increase enquiries, boost sales, and deliver a healthy return on investment.
Virtual tours are becoming increasingly popular in the world of yachting. This form of advertising offers an enticing way to view a brand's product digitally and is an indispensable tool for yacht brokerages selling or chartering yachts. Shipbuilders wishing to showcase their latest yacht models, technology, and interiors are also turning to virtual tour services, as are yacht representatives.
Our virtual yacht marketing experts have worked with leading yacht brokerages and shipyards, providing compelling and engaging virtual tours of some of the world's finest yachts and mega yachts.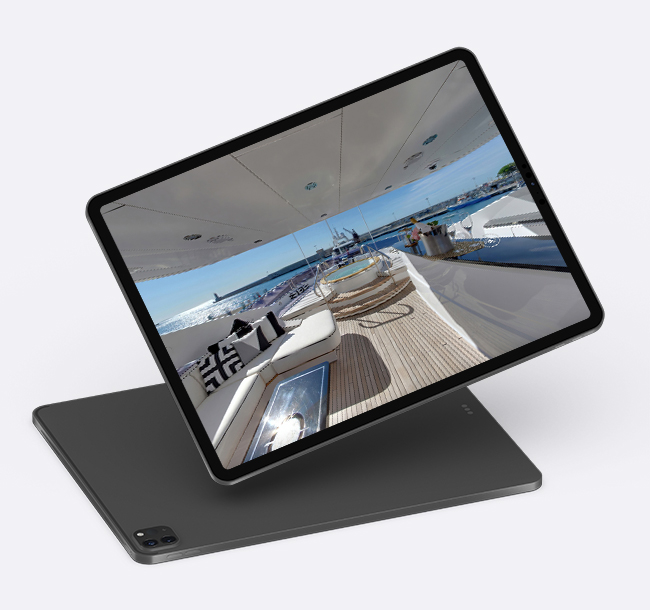 OUR VIRTUAL YACHT TOUR SERVICES
In a saturated digital marketing landscape, yacht brands must harness the latest tools and technologies to stand out from competitors and offer an enticing and engaging way for their intended audience to view and interact with their products. Our 360-degree luxury yacht virtual tour services, including photography, virtual reality production, digital staging, and graphic and digital design, are designed to do just that. We understand that every yacht brand is unique, so we offer a tailored virtual tour service to meet individual requirements. Whether you are a start-up brand or an established global yachting powerhouse, we can create compelling and dynamic 3D yacht tours to grow your business and deliver impactful results.
DEMONSTRABLE EXPERIENCE
Relevance Yacht's virtual tour experts excel at creating attention-grabbing virtual yacht tours of the very highest standards. Our experts have delivered virtual yacht tours for leading global mega yacht brands and niche yachting start-ups.
With over a decade of experience and one of just a small handful of marketing agencies that specialise in the highly exclusive yacht marketing industry, we are trusted by the world's leading yacht brands to deliver impactful results.
STATE-OF-THE-ART TECHNOLOGY
As a leading creative and digital yacht marketing agency, we understand the exceptionally high expectations of the yachting industry, which is why we only use the highest quality equipment. We use sophisticated DSLR cameras to create professional 360 imagery that provides true depth of field and perfect exposure every time. We also understand that well-executed imagery alone isn't sufficient. We draw on insights from our sister company, Relevance, which specialises in the UHNW audience, and combine this data-driven expertise with our insights gleaned from over a decade of operating in the superyacht sphere to deliver beautifully executed campaigns.
360 VIRTUAL YACHT MARKETING KEY FEATURES
Key features embedded into every 360 virtual yacht tour include:
DSLR Panoramas (HDR)
Live Panoramas (Sunset, Day, Sunrise & Night)
Gyroscope Enabled (Smart Devices)
3D Transitional Hotspots
Interactive Photo Hotspots
Interactive Agent Contact Details
Embedded 3D Floor Plan
Embedded Media Content (YouTube, Rumble, Vimeo etc)
Embedded Google Earth Location
Embedded Photo Album
Embedded Promo Video
Embedded Immersive Audio
Embedded Social Media Links
Embedded Google Analytics
Intro Video at the beginning of the VR Tour
Live Chat
VR Headset Ready
A COLLABORATIVE APPROACH
For more than a decade, Relevance Yacht has been the trusted creative and digital marketing partner for the world's leading yachting brands. We pride ourselves on not only meeting, but exceeding our clients' expectations. Our multi-lingual team of yacht marketing and virtual tour experts takes the time to get to know each client by establishing a close working relationship, enabling us to be attuned to individual needs.
We start every collaboration with a brainstorming meeting between the client, our virtual tour experts, and the dedicated project manager to define goals and discuss the vision and strategy. Once these aspects have been established, our team gets to work, seamlessly aligning your desired outcomes with our expertise.