The yachting industry is constantly evolving, pushing the boundaries of shipbuilding to create truly outstanding yachts with world-class design, technology, and extravagant onboard amenities. However, it is the most unique yachts that really make their mark on history, be it for their unusual exterior design, record-breaking technology, racing pedigree, or illustrious history.
The team at Relevance Yacht has had the pleasure of marketing some of the world's finest superyachts over the past decade. Here we look at the most unusual yachts that have captured our attention while working with some of the world's leading shipbuilders and yacht brokerages. 
The world's
most
unique yachts 
1 – ASEAN LADY
ASEAN LADY is a head-turning 88-metre asymmetrical yacht built by the Chinese shipyard Pride Mega Yachts in 2004. Her design is based on the proa, a bamboo multi-hulled vessel that dates back centuries and was used by the indigenous people of the South Pacific. Her unique design boasts many features, including enhanced space and reduced noise. She boasts serious long-range cruising capabilities and excellent seakeeping; indeed, her unique hull design enabled her to withstand the devastating tsunami of 2004 while anchored in Phuket. Among her many highlights include a luxurious and voluminous interior, including eight large staterooms, with the principal cabin spanning more than 1,700 square feet, and a helipad. And, for the ultimate party trick, this stunning vessel can manoeuvre sideways, making berthing effortless. Her unique design secured her the 'Most Innovative Motor Yacht' award by Showboats International in 2005. She is currently listed for sale.  
2 – GALAXY OF HAPPINESS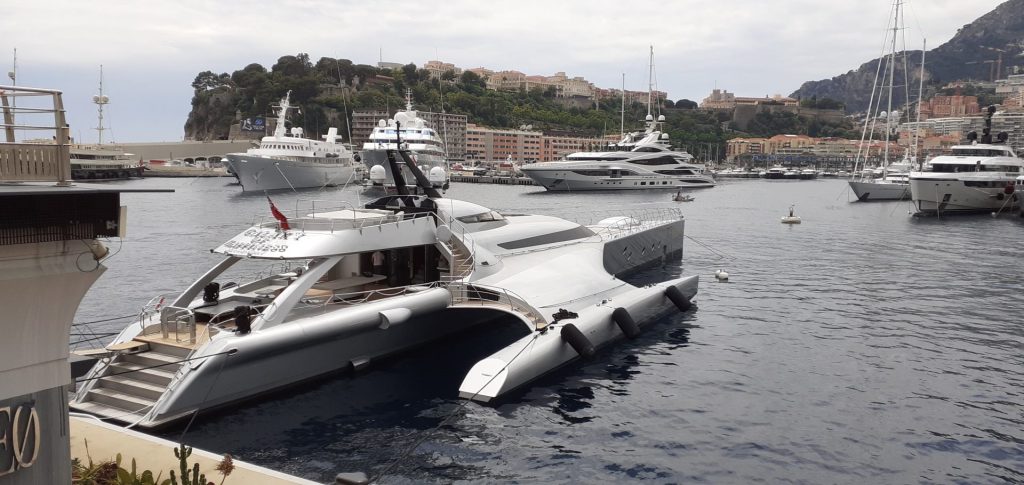 The 53-metre GALAXY OF HAPPINESS is the world's largest and fastest trimaran yacht. Built by the Latvian shipyard Latitude Yachts and launched in 2016, this unique yacht features an eye-catching futuristic design by Coste Design & Partners. She boasts a top speed of 30 knots and is built with advanced propulsion and technological systems that enable her to cruise with zero emissions. Her interior features eye-catching bright white furnishings and dark wooden accents. 
3 – CREOLE
CREOLE is by far the oldest yacht on this list, but nearly a century later, she can still compete. She was built in the U.K. and had an uneventful civilian life before being used as a minehunter during World War II. She was later acquired by the Danish government and stripped for use as a training ship. She eventually found her way to Maurizio Gucci, who lovingly restored her to her original condition. Now the sailing yacht of the Gucci family and owned by Allegra Gucci, she has participated in numerous regattas and even won the Monaco Classic Week in 2013. 
4 – YAS
Yas has a unique yacht design, partially thanks to her origins. She was built by Damen in the Netherlands as HNLMS Piet Hein, a Kortenaer-class anti-submarine frigate,  and commissioned in 1981. She served in the Royal Netherlands Navy before being sold to the United Arab Emirates Navy. She was decommissioned in 2005, and so began the lengthy rebuild process where she would be transformed into one of the world's most unique superyachts. She now boasts a length of 141-metres and a top speed of 26 knots. Now named YAS, she features a striking interior and exterior design by Pierrejean Design Studio. Indeed, there is no mistaking her for a yacht of the utmost luxury, yet one does not have to look long to see her military origins shine through the sleek exterior and iconic dome. 
5 – CHRISTINA O
CHRISTINA O is a 99.13-metre yacht that was originally launched as HMCS Stormont, a River-class frigate designed for anti-submarine warfare in the Atlantic that even took part in the Normandy landings. After the war, she was purchased as a surplus naval vessel by Greek billionaire Aristotle Onassis and named after his daughter, Christina. The CHRISTINA O has hosted numerous celebrities such as John F. Kennedy, Sir Winston Churchill, and Frank Sinatra, and even held the wedding reception for Prince Rainier III of Monaco and his soon-to-be-wife Grace Kelly. After Onassis' death, the yacht was left to the Greek government as a presidential yacht and allowed to decay before being sold to a family friend of the Onassis', who restored the CHRISTINA O to her former glory. 
6 – GUILTY
Both a yacht and a piece of art, GUILTY is a 35-metre yacht built by Cantieri Navali Rizzardi in 2008 and designed by Jeff Koons, an American artist, and Ivana Pofiri, an Italian yacht designer. The vessel immediately catches the eye, featuring tones of blue, white, black, and yellow in a paint scheme reminiscent of dazzle camouflage used on World War II naval vessels. The interior design features many art pieces, thanks to owner Dakis Joannous, an avid art collector who wished for his yacht to be both the ultimate floating art piece and collection. 
7 – KHALILAH
The 49-metre Palmer Johnson superyacht KHALILAH gains a mention on our most unique yachts listings thanks to her eye-catching metallic gold colour. However, there is more to KHALIAH than just her golden good looks. She features a carbon fibre superstructure with deflectors on her sides, giving her an appearance reminiscent of a trimaran. With a reported top speed of 30 knots, KHALILAH is also one of the fastest displacement yachts for her size. Launched in 2014, the vessel's interior features design by Palmer Johnson, who incorporated Southeast Asian design elements alongside eccentric elements such as a mosaic featuring various sea creatures. KHALILAH is impossible to miss in port or underway, and her performance and styling make for a unique and memorable experience for those on board. 
8 – ARTEFACT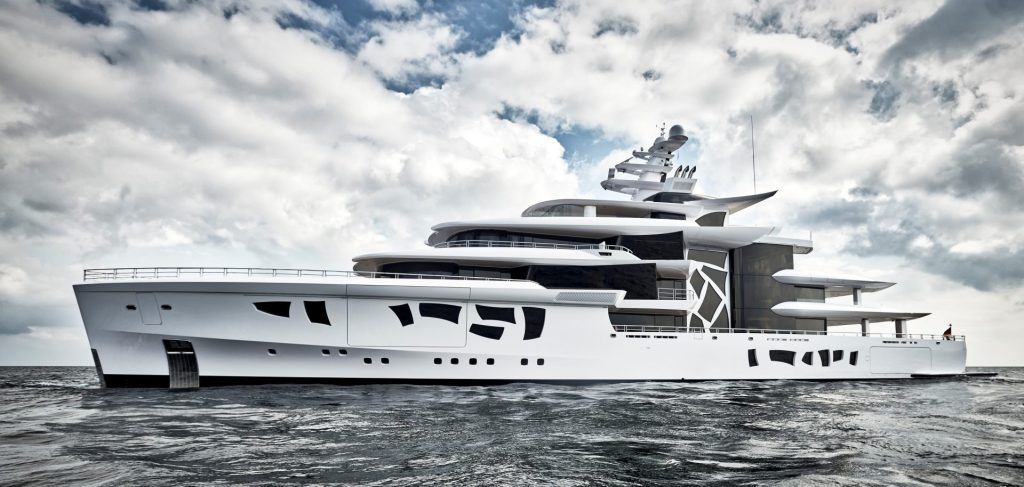 Built by German shipyard Nobiskrug, a Relevance Yacht client, the award-winning ARTEFACT is perhaps the most cutting-edge yacht on this list. ARTEFACT is a hybrid yacht and can operate for a limited time without the use of internal combustion engines, thanks to her state-of-the-art solar panels and batteries. The yacht contains other environmentally conscious features as well, including an Azipod system enabling her to hold position without dropping anchor and potentially damaging the sea floor and an advanced wastewater recycling system. Indeed, she was one of the world's first superyachts to meet IMO Tier II emissions regulations. However, what makes this yacht truly unique is her spectacular use of glass, including an unprecedented floor-to-ceiling glass central section that covers some 740 square metres and weighs almost 60 tonnes. Her striking exterior design incorporates sharp angles, geometric shapes, and irregular-sized windows, making it easy to see why she is such a unique yacht. 
9 – SAILING YACHT A
SAILING YACHT A stunned the yachting industry when she was launched by Nobiskrug in 2017. Her imposing size and radical design are highly divisive, with the yacht's designer, Philippe Starck, commenting, "Some people hate it, I can understand; some people love it, I can understand also." Love it or hate it, there is no question that SAILING YACHT A is one of the most unique superyachts on the planet.  At almost 143-metres, she is the largest privately owned sail-assisted yacht in the world. Her interior is shrouded in secrecy, but we do know that the yacht contains eight decks and that the windows are covered in a one-way film, preventing them from being seen from outside. It's also known that SAILING YACHT A features an underwater observation area. The mystery of what her interior looks like only adds to her appeal, and there is no question that she is a sight to behold in port or underway. 
10 – MALTESE FALCON
Such is the pace of acceleration within the yachting industry that yachts built several decades ago quickly lose some of their lustre. However, this is not the case with MALTESE FALCON, which looks just as striking as the day she was delivered. MALTESE FALCON was built by Perini Navi and is an 88-metre sailing yacht utilising DynaRig technology. The DynaRig technology was first pioneered in Germany during the 1960s as a method to save fuel and use as little crew as possible on cargo vessels. However, it never saw this intended purpose due to a lack of adequate construction materials. Yet by the 1990s, these materials were viable, and the MALTESE FALCON became the first vessel to utilise this modern square rigging technology, sealing her spot as one of the most unique boats in the world. 
11 – TATOOSH
In a world of sleek lines and a near-constant stream of new yacht designs, TATOOSH takes a different approach. Built by Nobiskrug in 2000, TATOOSH is a 92-metre yacht with a classic and timeless design. Her original owner, Craig McGraw, an American mobile phone magnate, wanted her to be built around tenders and helicopters. McGraw is fond of buying antique and vintage furniture and decor at auctions in the United States, and the designers incorporated his eclectic finds into the yacht, making TATOOSH feel like a true home from home. Her interior is full of classic furniture and decor, matching her timeless exterior. She also carries multiple tenders – including a 12-metre racing sailing boat – and has plenty of room for more. Additionally, TATOOSH features bulletproof windows and walls reinforced with Kevlar. This security was paramount to facilitating safe circumnavigation. The ship is reported to have contained a full British armoury and even had eight Gurkhas – elite Nepalese soldiers made famous for their service in the British Army, on board as crew members during McGraw's time as owner. All of these interesting aspects of TATOOSH have cemented her place as one of the world's most unique yachts. 
12 – ROYAL FALCON ONE
A truly out-of-this-world vessel and the only catamaran on this list, the ROYAL FALCON ONE is a 41.4-metre multi-hull vessel built by Kockums Shipyard and Royal Falcon Fleet in 2019. The design was handled by Studio F.A. Porsche, and one does not have to look far to see the influence of Porsche's designers. The curves of the vessel are reminiscent of the rear of a Porsche 911. However, the vessel was not originally thought of with Porsche in mind. The owner wanted a vessel that was effectively a floating spaceship. Porsche certainly accomplished this, and the Royal Falcon One attracts attention in every marina thanks to her sleek profile and unique yacht design. The spaceship theme does not stop at the interior, and the designers included a host of features, such as a walkway lined with 14 RGB screens to connect two spaces. Most of the interior is quite open, thanks to the catamaran design, with the main deck being referred to as the capsule. From bow to stern, the ROYAL FALCON ONE is certainly an out-of-this-world vessel. 
13 – GALAXY
GALAXY is a 56-metre Benetti superyacht built in 2005, with a rather typical exterior for a modern yacht. However, what makes GALAXY unique is her interior following a recent five-month refit. Her interior was completely reimagined, bringing new life to the vessel. The main deck of GALAXY has been reimagined as a member's club with artwork by artist Dylan Cole, known for Disney's Avatar. Suites on the vessel have been redesigned based on various planets in the solar system, with each suite incorporating the various hues of the planets, with Mars, for instance, featuring tones of reddish brown. The vessel even features a specially engineered floor. These are just a few features the owners incorporated into their new floating home. With this refit, GALAXY went from just another unassuming and commonplace white yacht to a vessel with one of the most unique interiors. 
14 – VENUS
VENUS is a 78.2-metre motor yacht built by Feadship with a head-turning, minimalist design. The superyacht was built for the late Apple founder Steve Jobs, who passed away before the vessel was completed. Her beautiful minimalist look is reminiscent of an Apple product, featuring a striking silver paint job, gleaming stainless-steel details and a low-slung superstructure made entirely of glass. Her exterior is extremely clean, with nothing to detract from her slick design; most notably, she has no visible radar arch or satellite equipment. Today, VENUS is still in the family and not available for charter, and her interior is shrouded in secrecy. When photographers were able to get close enough to afford a glimpse inside, they noticed the bridge lined with Mac computer screens. One can only imagine the unique design features Steve Jobs incorporated into his yacht, but even by only considering what is publicly known, VENUS still deserves a place on our most unique yacht list. 
15 –  OLIVIA O 
The 88.51-metre OLIVIA O has one of the most striking exterior hull shapes on this list, reminiscent of commercial ships thanks to the X-BOW design. Her owner has a love for industrial vessels, which explains his yacht's iconic shape. OLIVIA O was delivered in Norway in 2018 by Ulstein Verft AS. She is the ultimate expedition yacht, well suited to rough seas and with a modern interior making excellent use of both wood and metal. OLIVIA O is described as a "go anywhere, do anything yacht", adding the luxury one expects from a yacht to the ruggedness and sheer capability of commercial vessels. 
Relevance Yacht is a leading yacht marketing agency with in-depth yachting industry knowledge. Our yacht marketing experts have been crafting impactful digital marketing campaigns for leading shipyards, yacht brokerages, charter agencies, crew agencies and yacht service providers for over a decade. Contact us today if you need yacht marketing support or to learn more about our 360 creative and digital marketing services.